ISSN: 

2579-471X

 (online)
ISSN: 2301-6078 (print)
Editor in Chief: Ermi Andriani Meikayanti
Published at: June and December
Widyabastra: Jurnal Ilmiah Pembelajaran Bahasa dan Sastra Indonesia is a peer-reviewed journal published by Program Studi Pendidikan Bahasa dan Sastra Indonesia, Fakultas Keguruan dan Ilmu Pendidikan, Universitas PGRI Madiun, Indonesia. This journal which is published twice a year provides a room for researchers, academists, professionals, practicians, and students to deliver and share various knowledge in form of research articles, as well as research results or qualified theoretical studies such as case studies, analysis or book review about linguistics, literature, and teaching.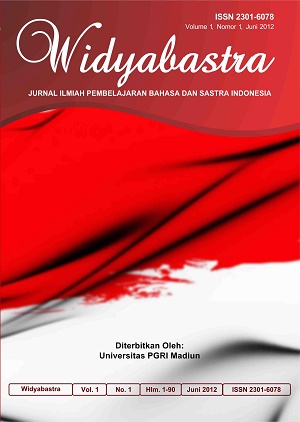 Announcements
Call For Papers

Call For Papers

 

Posted: 2017-07-06
More...
Vol 10, No 2 (2022)
Table of Contents
Articles