JIPM (Jurnal Ilmiah Pendidikan Matematika) is a biannual journal, published by Universitas PGRI Madiun on March and September. JIPM provides a forum for lecturers, academicians, researchers, practitioners, and students to deliver and share knowledge in the form of empirical and theoretical research articles. The journal invites professionals in the study of Mathematics Education.
ISSN 2301-7929 (print)
ISSN 2502-1745 (online) 
Template JIPM on March 2016 until March 2017 can be downloaded here. JIPM fixed the template for Vol 6 No 1 (September 2017) and beyond, it can be downloaded here.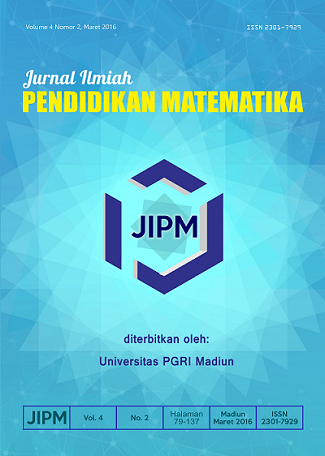 Announcements
ANNOUNCEMENTS

Standard: JIPM Call for Papers

Posted: 2017-03-31
More...