Selamat datang di Jurnal Online Universitas PGRI Madiun.
Welcome to Universitas PGRI Madiun 's Online Journal.

Universitas PGRI Madiun adalah penggabungan IKIP PGRI MADIUN, STT Dharma Iswara dan STIE Dharma Iswara. SK MENRISTEKDIKTI NOMOR : 1/KPT/I/2017.
List Jurnal di Universitas PGRI Madiun yang sudah terindeks DOAJ klik disini
---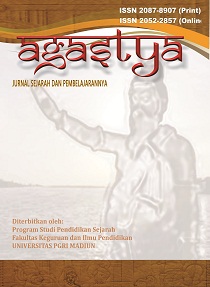 AGASTYA: JURNAL SEJARAH DAN PEMBELAJARANNYA
Agastya: Jurnal Sejarah dan Pembelajarannya is a biannual journal, published by Universitas PGRI Madiun on January and July, with regitered number ISSN 2087-8907 (printed), ISSN 2502-2857 (online). Agastya provides a forum for lecturers, academicians, researchers, practitioners, to deliver and share knowledge in the form of empirical and theoretical research articles on historical education and learning.
View Journal | Current Issue | Register
Assets: Jurnal Akuntansi dan Pendidikan
ASSETS: Journal of Accounting and Education is published by Accounting Education Department, Faculty of Teachers Training and Education, University of PGRI Madiun. This journal is a medium of scientific communication in the field of accounting and education which is published two times a year,those are in April and October. Assets: Journal of Accounting and Education Has ISSN:2302-6251 (print) and ISSN: 2477-4995 (online)
ASSETS is an accounting term that means property. Together with the hope and spirit of our study program, ASSETS is expected to be a valuable repository that holds the results of thinking and research in the field of accounting and education. Our accounting and education sub-areas include financial accounting, management accounting, public sector accounting, accounting information system, auditing, taxation, accounting sharia, entrepreneurial accounting, banking accounting, innovation in accounting learning. This is in line with the vision of an accounting education study program mission that wants to create a well-characterized and independent educator, integrating the pure accounting and education science.