Selamat datang di Jurnal Online Universitas PGRI Madiun.
Welcome to Universitas PGRI Madiun 's Online Journal.

Universitas PGRI Madiun adalah penggabungan IKIP PGRI MADIUN, STT Dharma Iswara dan STIE Dharma Iswara. SK MENRISTEKDIKTI NOMOR : 1/KPT/I/2017.
List Jurnal di Universitas PGRI Madiun yang sudah terindeks DOAJ klik disini
---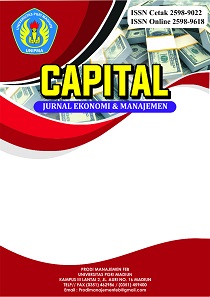 CAPITAL: JURNAL EKONOMI DAN MANAJEMEN
CAPITAL: Jurnal Ekonomi dan Manajemen published by Universitas PGRI Madiun with regitered number ISSN:
2598-9022 (Print)
and
2598-9618 (Online)
,  which published twice a year on September and March. Various topics of Business and Management articles that can be accepted in this journal are:
Finance Management
Human Resource Management
Marketing Management
Operational Management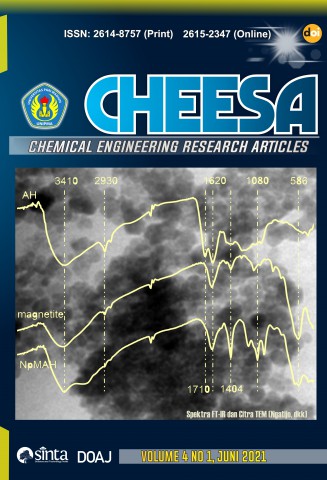 CHEESA: Chemical Engineering Research Articles
CHEESA: Chemical Engineering Research Articles is scientific journal that publishes articles in the field of Chemical Engineering, Organic Chemistry, Inorganic Chemistry, Analytical Chemistry, Biochemistry, and Physical Chemistry. It is a journal to encourage research publication to research scholars, academicians, professionals and student engaged in their respective field.
Author can submit manuscript by doing online submission. Author should prepare their manuscript to the instructions given in Author Guidelines before doing online submission. Template of article can be download in right sidebar. All submissions will be reviewed and evaluated based on originality, technical research, and relevance to journal contributions.
Chemical Engineering Research Articles is published by Universitas PGRI Madiun on June and December.
ISSN 2614-8757 (Print)
ISSN 2615-2347 (Online)
CHEESA (Chemical Engineering Research Articles) has been covered by the following indexing and abstracting services:
Citizenship Jurnal Pancasila dan Kewarganegaraan
| | |
| --- | --- |
| Journal title | CITIZENSHIP: Jurnal Pancasila dan Kewarganegaraan |
| Initials | CITIZENSHIP |
| Abbreviation | - |
| Frequency | 2 issues per year |
| DOI | prefix 10.25273 by |
| Print ISSN | 2302-433X |
| Online ISSN | 257-5740 |
| Editor-in-chief | SISKA DIANA SARI |
| Managing Editor | YOGA ARDIAN FERIANDI |
| Publisher | Universitas PGRI Madiun |
| Citation Analysis | Google Scholar | |
Citizenship is a high-quality open access peer-reviewed research journal that is published by civic education departments of UNIPMA. Citizenship is providing a platform for the researchers, academicians, professional, practitioners and students on civic education research. Focus and scope on citizenship: Civic Education Research; Media Development and Learning Model of Civic Education; Evaluation and Assessment of learning Civic Education; Research and Development of Civic Education; Civics; Constitutional law; Social and Politics. Citizenship has registered number ISSN: 257-5740 (Online), ISSN: 2302-433X (Printed).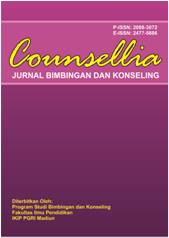 Counsellia: Jurnal Bimbingan dan Konseling
Counsellia: Jurnal Bimbingan dan Konseling with registered number ISSN: 2088-3072 (Print) and ISSN: 2477-5886 (Online), is a peer-reviewed journal which publishes conceptual ideas, studies and research on the theory and application of Guidance and Counseling also education related to Guidance and Counseling.
Counsellia is published by Departement of Guidence and Counseling Faculty of Teacher Training and Education Universitas PGRI Madiun. Any changes to the journal will be delivered on Journal History. Abstracts and full text that have been published on the website can be read and downloaded for free.
Counsellia publish regularly two times a year in May and November.
Template Counsellia:Jurnal Bimbingan dan Konseling can be downloaded here.