Selamat datang di Jurnal Online Universitas PGRI Madiun.
Welcome to Universitas PGRI Madiun 's Online Journal.

Universitas PGRI Madiun adalah penggabungan IKIP PGRI MADIUN, STT Dharma Iswara dan STIE Dharma Iswara. SK MENRISTEKDIKTI NOMOR : 1/KPT/I/2017.
List Jurnal di Universitas PGRI Madiun yang sudah terindeks DOAJ klik disini
---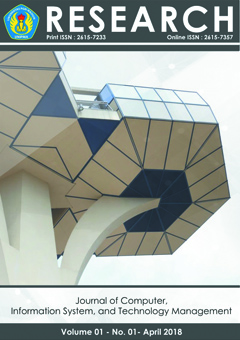 RESEARCH : Computer, Information System & Technology Management
RESEARCH is a scientific journal that publishes articles in the field of Computer, Information systems & Technology Management.Various topics can be published in this journal is about:

1.Technology Information & Information System. 
2.Computing, Internet of Think &  Networking. 
3.Multimedia Bussines & Learning.
5.Technology Management.
RESEARCH: Journal of Computer, Information System & Technology Management has been registered with Online ISSN: 2615-7357 / Print ISSN: 2615-7233 and published by Universitas PGRI Madiun in April and Oktober.