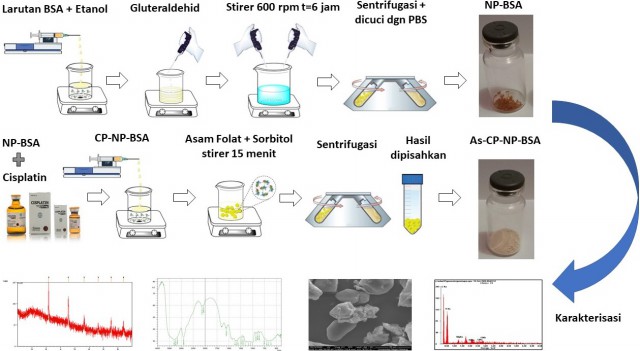 Sintesis Nanopartikel Bovine Serum Albumin Kombinasi Cisplatin dan Asam Folat Sebagai Kandidat Antikanker
Abstract
Kanker adalah penyakit tidak menular yang menyebabkan morbiditas dan mortalitas di seluruh wilayah dunia. Salah satu pengobatan kanker adalah dengan menggunakan obat kemoterapi cisplatin. Namun cisplatin memiliki efek samping yang bersifat toksik jika dikonsumsi dalam dosis dan waktu tertentu. Kombinasi nanopartikel bovine serum albumin (BSA) yang mengandung cisplatin dikembangkan dengan modifikasi ikatan menggunakan asam folat sebagai solusi alternatif meminimalisir efek toksik yang dihasilkan dan mengoptimalkan sistem pengiriman obat. Tujuan penelitian adalah sintesis kombinasi nanopartikel BSA yang mengandung cisplatin dan modifikasi ikatan menggunakan asam folat sebagai kandidat antikanker. Penelitian ini dilakukan melalui sintesis dengan metode desolvasi. Hasil penelitian menunjukkan bahwa nanopartikel BSA yang dikombinasi dengan cisplatin dan asam folat telah berhasil disintesis. Analisis FT-IR menunjukkan bahwa ada gugus fungsi O-H alkohol, C-H, C-C, NO2 yang berperan dalam sintesis nanopartikel. Analisis XRD menunjukkan adanya pergeseran peak dari NP-BSA 31,69 menjadi As-CP-NP-BSA 34,45; ukuran nanopartikel NP-BSA 2,38 nm dan As-CP-NP-BSA 2,62 nm sedangkan analisis SEM-EDX diketahui ada unsur C, O, Mg, Cl dan Pt.
Keywords
asam folat; BSA; cisplatin; sintesis nanopartikel; toksisitas
References
Alam, N., Dubey, R. D., Kumar, A., Koul, M., Sharma, N., Sharma, P. R., Chandan, B. K., Singh, S. K., Singh, G., & Gupta, P. N. (2015). Reduced toxicological manifestations of cisplatin following encapsulation in folate grafted albumin nanoparticles. Life Sciences, 142, 76–85. DOI: 10.1016/j.lfs.2015.10.019
Aldossary, S. A. (2019). Review on Pharmacology of Cisplatin: Clinical Use, Toxicity and Mechanism of Resistance of Cisplatin. Biomedical and Pharmacology Journal, 11(1), 07–15. DOI: 10.13005/bpj/1608
Ambarwati, R. (2019). Pembuatan Nanopartikel Albumin Menggunakan Metode Desolvasi Sebagai Alternatif Sistem Pembawa. FITOFARMAKA: Jurnal Ilmiah Farmasi, 9(1), 35–39. DOI: 10.33751/jf.v9i1.1258
Artini, I. G. A. (2013). Peranan Nanopartikel Dalam Penatalaksanaan Kanker di Era Targeting Therapy. Indonesian Journal of Cancer, 7(3), 111–117.
Dong, Y., Fu, R., Yang, J., Ma, P., Liang, L., Mi, Y., & Fan, D. (2019). Folic acid-modified ginsenoside Rg5-loaded bovine serum albumin nanoparticles for targeted cancer therapy in vitro and in vivo. International Journal of Nanomedicine, 14, 6971–6988. DOI: 10.2147/IJN.S210882
Garg, S., & Garg, A. (2018). Encapsulation of Curcumin in Silver Nanoparticle for Enhancement of Anticancer Drug Delivery. International Journal of Pharmaceutical Sciences and Research, 9(3), 1160. DOI: 10.13040/IJPSR.0975-8232.9(3).1160-66
Kashyap, D., Tuli, H. S., Yerer, M. B., Sharma, A., Sak, K., Srivastava, S., Pandey, A., Garg, V. K., Sethi, G., & Bishayee, A. (2019). Natural product-based nanoformulations for cancer therapy: Opportunities and challenges. Seminars in Cancer Biology, June, 1–19. DOI: 10.1016/j.semcancer.2019.08.014
Kasim, S., Taba, P., Ruslan, & Anto, R. (2020). Sintesis Nanopartikel Perak Menggunakan Ekstrak Daun Eceng Gondok (Eichornia crassipes) Sebagai Bioreduktor. KOVALEN: Jurnal Riset Kimia, 6(2), 126–133. DOI: 10.22487/kovalen.2020.v6.i2.15137
Kementerian Kesehatan RI Badan Penelitian dan Pengembangan. (2018). Hasil Utama Riset Kesehatan Dasar, 1–100. LINK: http://www.depkes.go.id/resources/download/info-terkini/hasil-riskesdas-2018.pdf
Koo, H., Min, K. H., Lee, S. C., Park, J. H., Park, K., Jeong, S. Y., Choi, K., Kwon, I. C., & Kim, K. (2013). Enhanced drug-loading and therapeutic efficacy of hydrotropic oligomer-conjugated glycol chitosan nanoparticles for tumor-targeted paclitaxel delivery. Journal of Controlled Release, 172(3), 823–831. DOI: 10.1016/j.jconrel.2013.08.297
Kumaran, P., Gupta, A., & Sharma, S. (2017). Synthesis of wound-healing keratin hydrogels using chicken feathers proteins and its properties. International Journal of Pharmacy and Pharmaceutical Sciences, 9(2), 171–178. DOI: 10.22159/ijpps.2017v9i2.15620
Masakke, Y., Sulfikar, & Rasyid, M. (2015). Biosintesis Partikel-nano Perak Menggunakan Ekstrak Metanol Daun Manggis ( Garcinia mangostana L . ) Biosynthesis of Silver Nanoparticles using Methanol Extract of Mangosteen Leaves ( Garcinia mangostana L . ). Jurnal Sainsmat, IV(1), 28–41.
Mutiah, R., Suryadinata, A., & Nurani, P. S. (2018). Uji Sitotoksitas Kombinasi Cisplatin Dengan Ekstrak Etanol Benalu Alpukat (Dendrophthoe pentandra (L) Miq.) Pada Sel Hela. Majalah Kesehatan, 5(3), 133–143. DOI: 10.21776/ub.majalahkesehatan.005.03.2
Nosrati, H., Abbasi, R., Charmi, J., Rakhshbahar, A., Aliakbarzadeh, F., Danafar, H., & Davaran, S. (2018). Folic acid conjugated bovine serum albumin: An efficient smart and tumor targeted biomacromolecule for inhibition folate receptor positive cancer cells. International Journal of Biological Macromolecules, 117, 1125–1132. DOI: 10.1016/j.ijbiomac.2018.06.026
Qi, L., Luo, Q., Zhang, Y., Jia, F., Zhao, Y., & Wang, F. (2019). Advances in Toxicological Research of the Anticancer Drug Cisplatin. Chemical Research in Toxicology, 32(8),1469-1486. DOI: 10.1021/acs.chemrestox.9b00204
Rahmani, A. H., Al Zohairy, M. A., Aly, S. M., & Khan, M. A. (2014). Curcumin: A Potential Candidate in Prevention of Cancer via Modulation of Molecular Pathways. BioMed Research International, 2014, 761608. DOI: 10.1155/2014/761608
Article Metrics
Abstract has been read : 128 times
DOWNLOAD PDF file viewed/downloaded: 0 times

DOI:

http://doi.org/10.25273/cheesa.v3i2.7742.79-87
Refbacks
There are currently no refbacks.
This work is licensed under a
Creative Commons Attribution-NonCommercial-ShareAlike 4.0 International License
.
Published by Universitas PGRI Madiun

View Statistic