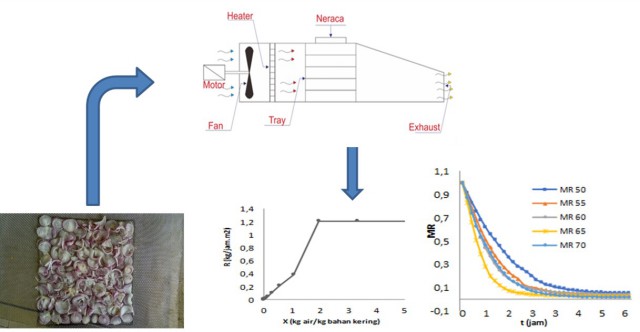 Karakterisasi Pengeringan Bawang Merah (Allium cepa L.) Menggunakan Tray Dryer
Abstract
Pengeringan bawang merah (Allium cepa L.) menggunakan tray dryer bertujuan menghasilkan produk sesuai standar bahan kering, tetapi kadar nutrisinya tetap dipertahankan. Tujuan dari penelitian ini adalah mempelajari karakteristik proses pengeringan bawang merah melalui beberapa tinjauan yaitu kadar air bawang merah setelah pengeringan, laju pengeringan konstan (Rc), kadar air bebas kritis (Xc), parameter pengeringan (k), profil kurva laju pengeringan menurun dan nilai difusivitas rata-rata. Pengeringan dilakukan pada bawang merah dengan kadar air awal 82,5%, dan ketebalan 1-2 mm. Suhu pengeringan divariasi pada rentang 50-70 oC, waktu pengeringan 6 jam dan laju udara pengeringan 2,0 m/s. Hasil penelitian menunjukkan bahwa suhu optimum pengeringan adalah 70 oC dengan kadar air bawang merah setelah pengeringan adalah 8,3896%, nilai Rc yaitu 1,2968 kg/jam.m2, nilai Xc yaitu 2,3044 kg air/kg bahan kering dan nilai k adalah 0,0173 menit-1. Profil perpindahan air terikat dalam bawang merah terjadi secara difusi dengan nilai difusivitas rata-rata (DL) adalah 1,5556.10-10 m2/detik.
Keywords
bawang merah; difusivitas; kadar air; laju pengeringan; tray dryer
References
Adhiwibowo, K., & Ramadhanty, A. (2018). Distribusi Perdagangan Komoditas Bawang Merah Indonesia. BPS RI/BPS-Statistics Indonesia. ISBN: 978-602-438-318-3 No. Publikasi: 06130.2007. Katalog: 8201018. Penertbit CV. NASIONAL INDAH. LINK: https://www.bps.go.id
Djaeni, M., Agusniar, A., Setyani, D., & Hargono. (2011). Pengeringan Jagung dengan Metode Mixed Adsorption Drying Menggunakan Zeolite pada Unggun Terfluidisasi. Prosiding Seminar Nasional Sains dan Teknologi ke-2. Fakultas Teknik Universitas Wahid Hasyim Semarang.
Djaeni, M., & Perdanianti, A. M., (2019). The Study Explores the Effect of Onion (allium cepa l.) Drying using Hot Air Dehumidified by Activated Carbon, Silica Gel and Zeolit. The 3rd International Conference of Chemical and Material Engineering. IOP Conf.Series: Journal of Physiscs: Conf. Series, 1295 (2019), 012025. DOI: 10.1088/1742-6596/1295/1/012025
Djaeni, M., Sasongko, S. B., & Van Boxtel, A. J. B. (2013). Enhacement of Energy Efficiency and Food Product Quality Using Adsorption Dryer with Zeolite. Int.Journal of Renewable Energy Development (IJRED), 2(2), 81-86. DOI: 10.14710/ijred.2.2.81-86
Geankoplis, C. J. (1993). Transport Process and Unit Operations. Edition 3rd. Prentice-Hall International, Inc.
Hancioglu, E, Hepbasli, A., Icier, F., Erbay, Z., & Colak, N. (2010). Performance Investigation of Drying of Parsley in a Tray Dryer System. Int. J. Exergy, 7(2), 193-210. DOI: 10.1504/ijex.2010.031240
Lewis, W. (1921). The Rate of Drying of Solid Materials. Journal Ind.Eng.Chem. 65(1), 427-431. DOI: 10.1021/ie50137a021
Misha, R, Mat, S., Ruslan, M. H., Sopian, K., & Salleh, E. (2013) Review on a Tray Dryer System for Agricultural Products. World Applied Sciences Journal, 22(3), 424-433. DOI: 10-5829/idosi.wasj.2013.22.03.343
Mitra, J., Shrivastava, S. L., & Rao, P. S. (2012). Onion Dehydration: a review. Journal Food Sci. Technol., 49, 267-277. DOI: 10.1007/s13197-011-0369-1
Mota, C. L, Luciano, C., Dias, M. J., Barroca, & Guine R. P. V., (2010). Convective Drying of Onion: Kinetic and Nutritional Evaluation. Food Bioprod. Process., 8(2-3), 115-123. DOI: 10.1016/j.fbp.2009.09.004
Nugraha, S., Adiandri, R.S., & Yulianingsih. (2011). Pelayuan dan Pengeringan Bawang Merah Menggunakan Instore Drying untuk Mempertahankan Mutu dan Mengurangi Tingkat Kerusakan. Jurnal Pasca Panen, 8(2),72-81.
Pradana, G. B., Prabowo, K. B., Hastuti, R. P., Djaeni, M., & Prasetyaningrum, A., (2019). Seaweed Drying Process Using Tray Dryer with Dehumidified Air System to Increase Efficiency of Energy and Quality Product. Internasional Conference on Food Science & Technology.Earth and Enviromental Science, 292 (2019).012070. DOI: 10.1088/1755-1315/292/1/012070
Rodrigues, A., Fogliano, V., Graziani G., Mendes, S., Vale, A. & Goncalves, C. (2003). Nutrition Value of Onion Regional Varieties in Northwest Portugal. EJEAFChe, 2(4), 519-524.
Santoso, D., Muhidong, D., & Mursalim. (2018). Model Matematis Pengeringan Lapisan Tipis Biji Kopi Arabika (Coffeae arabica) dan Biji Kopi Robusta (Coffeae cannephora). Jurnal Teknologi Pertanian Andalas, 22(1), 86-95. DOI: 10.25077/jtpa.22.1.86-95.2018
Sasongko, S. B., Hadiyanto, H., Djaeni, M., Perdanianti A. M., & Utari F. B. (2020). Effect of Drying Temperature and Relative Humidity on the Quality of Dried Onion Slice. Heliyon, 6(7), e04338. DOI: 10.1016/j.heliyon.2020.e04338
Traub, D. A., (2002). The Drying Curve Part 1. LINK: https://www.process-heating.com/articles/86586-the-drying-curve-part-1, (diakses pada 12 Juli 2019).
Article Metrics
Abstract has been read : 285 times
DOWNLOAD PDF file viewed/downloaded: 0 times

DOI:

http://doi.org/10.25273/cheesa.v3i2.7660.71-78
Refbacks
There are currently no refbacks.
This work is licensed under a
Creative Commons Attribution-NonCommercial-ShareAlike 4.0 International License
.
Published by Universitas PGRI Madiun

View Statistic