ASSETS: Jurnal Pendidikan dan Akuntansi diterbitkan oleh Universitas PGRI Madiun dan dikelola oleh Program Studi Pendidikan Akuntansi, Fakultas Keguruan dan Ilmu Pendidikan. Jurnal ini merupakan media komunikasi ilmiah bidang akuntansi dan pendidikan yang terbit dua kali dalam setahun yaitu pada bulan April dan Oktober. Aset: Jurnal Akuntansi dan Pendidikan memiliki ISSN: 2302-6251 (cetak) dan ISSN: 2477-4995 (online)

ASET adalah istilah akuntansi yang berarti properti. Bersama dengan harapan dan semangat prodi kami, ASSETS diharapkan menjadi gudang berharga yang menampung hasil pemikiran dan penelitian di bidang akuntansi dan pendidikan. Sub bidang akuntansi dan pendidikan kami meliputi akuntansi keuangan, akuntansi manajemen, akuntansi sektor publik, sistem informasi akuntansi, auditing, perpajakan, akuntansi syariah, akuntansi kewirausahaan, akuntansi perbankan, inovasi dalam pembelajaran akuntansi. Hal ini sejalan dengan visi misi program studi pendidikan akuntansi yang ingin menciptakan tenaga pendidik yang berkarakter dan mandiri, mengintegrasikan ilmu akuntansi dan pendidikan yang murni.
------------------------------------
ASSETS: Journal of Accounting and Education is published by Universitas PGRI Madiun and managed by Accounting Education Department, Faculty of Teachers Training and Education. This journal is a medium of scientific communication in the field of accounting and education which is published two times a year,those are in April and October. Assets: Journal of Accounting and Education has ISSN:2302-6251 (print) and ISSN: 2477-4995 (online)
ASSETS is an accounting term that means property. Together with the hope and spirit of our study program, ASSETS is expected to be a valuable repository that holds the results of thinking and research in the field of accounting and education. Our accounting and education sub-areas include financial accounting, management accounting, public sector accounting, accounting information system, auditing, taxation, accounting sharia, entrepreneurial accounting, banking accounting, innovation in accounting learning. This is in line with the vision of an accounting education study program mission that wants to create a well-characterized and independent educator, integrating the pure accounting and education science.
------------------------------------------------
Silakan baca alur penerbitan artikel ASSETS: JAP pada flowchart di bawah ini (unduh dan/atau perbesar tampilan untuk tampilan lebih jelas):
Please read the flow of the ASSETS: JAP article publishing in the flowchart below (download and / or zoom for a clearer view):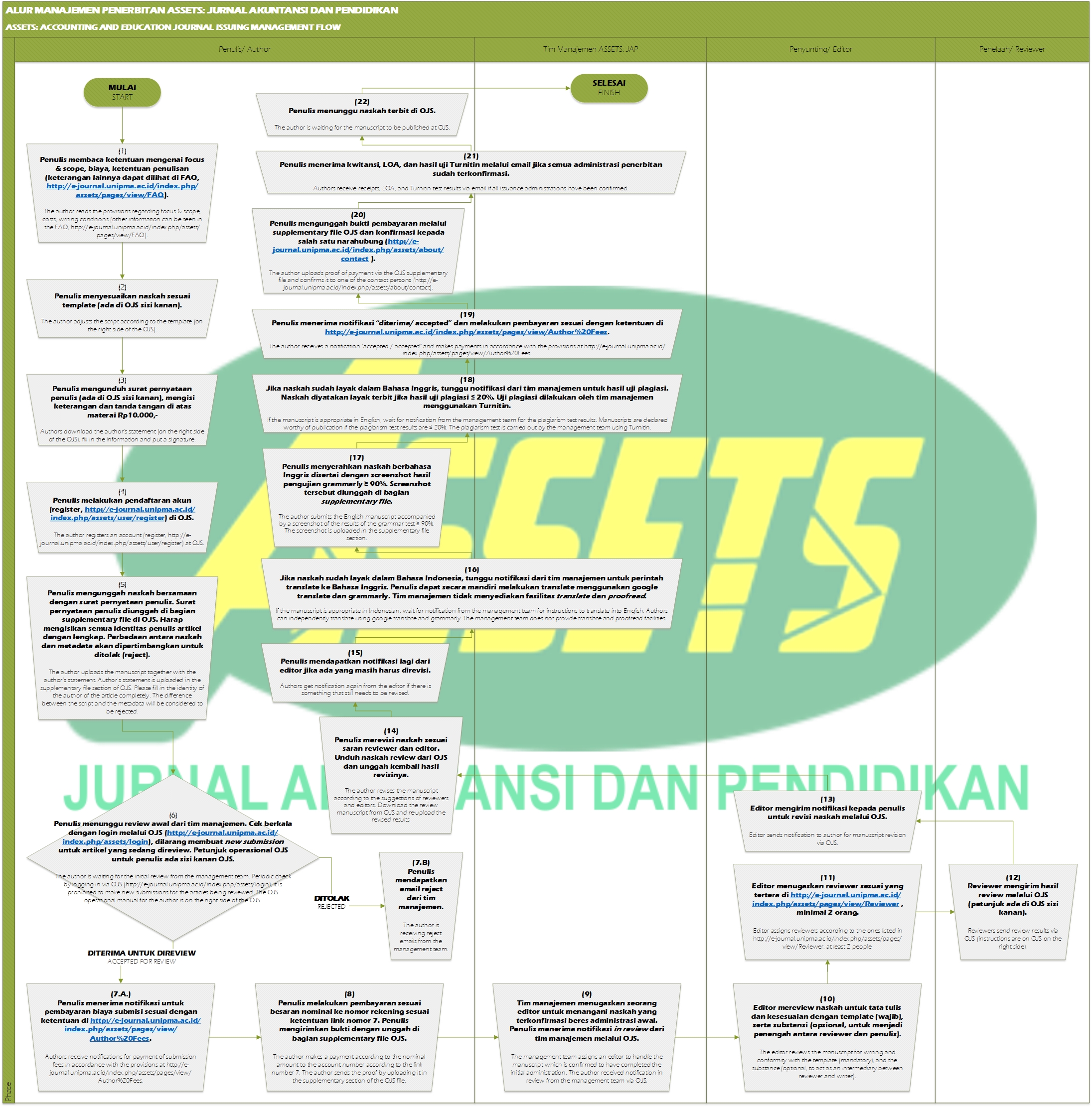 Announcements
SK Dewan Redaksi ASSETS: Jurnal Akuntansi dan Pendidikan Tahun 2022-2026

SK Dewan Redaksi ASSETS: Jurnal Akuntansi dan Pendidikan tahun 2022-2026 dapat diunduh di sini.
Posted: 2022-05-13

Hasil Seleksi Call For Editor & Reviewer 2022

Tim manajemen ASSETS: Jurnal Akuntansi dan Pendidikan memutuskan nama-nama yang terdapat dalam lampiran berikut ini diterima menjadi editor atau reviewer (mitra bebestari) berdasarkan rapat tim manajemen tanggal 7 Mei 2022. Selamat bergabung dan berjuang bersama kami. Unduh pengumuman di sini.
Posted: 2022-05-13

Pendaftaran Kandidat Editor dan Reviewer ASSETS: JAP

Pendaftaran Kandidat Editor dan Reviewer ASSETS: JAP
Posted: 2021-05-26
More...

Publikasi Naskah Vol 9 No. 2

Assets: Jurnal Akuntansi dan Pendidikan turut berduka cita atas wafatnya Dr. Octavianus Digdo Hartomo, S.E., M.Si.Akt.

Kami menghargai upaya beliau dalam berproses menyelesaikan revisi naskahnya dengan baik selama 6 bulan terakhir. Untuk itu pada Edisi 9 No 2 kami mempublikasikan naskah beliau, dengan beberapa keterbatasan informasi (data pribadi penulis) yang sempat diunggah beliau. Terima kasih telah mengupayakan naskah terbaiknya sampai akhir hayat.

Selamat Jalan, Semoga Ilmunya Bermanfaat.

Posted: 2020-10-28