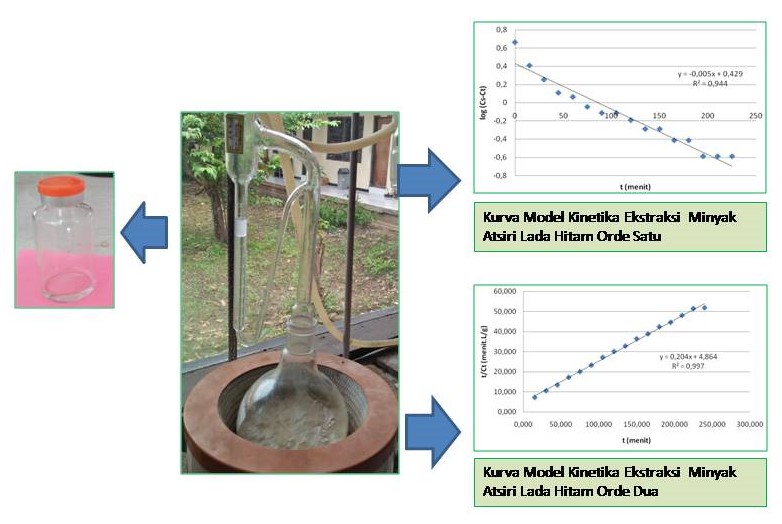 Kinetika Ekstraksi Minyak Atsiri Lada Hitam (Piper nigrum) Secara Hidrodistilasi
Abstract
Lada hitam dikenal dengan nama King of Spices yang merupakan salah satu komoditi unggulan ekspor asal Provinsi Lampung. Lada hitam memiliki aroma dan rasa pedas yang khas. Kontribusi aroma berasal dari senyawa volatile yang terkandung pada minyak atsiri dalam lada hitam. Minyak atsiri lada diperoleh dari ekstraksi pelarut, hidrodistilasi, distilasi uap, distilasi fluida super kritik dan  hidrodistilasi menggunakan microwave. Nilai konsentrasi minyak atsiri selama ekstraksi serta laju ekstraksi dapat diprediksi dari model kinetika. Tujuan penelitian ini adalah mempelajari ekstraksi minyak atsiri lada hitam dan mengetahui model kinetika ekstraksi minyak atsiri lada hitam secara hidrodistilasi. Hidrodistilasi dilaksanakan selama 5 jam dengan pengambilan data setiap 15 menit. Hasil penelitian memperlihatkan kinetika ekstraksi lada hitam mengikuti model kinetika ekstraksi orde kedua.  Nilai parameter kinetika orde kedua dari ekstraksi minyak atsiri lada hitam yaitu kapasitas ekstraksi minyak atsiri lada,Cs, laju awal ekstraksi, h, dan konstanta laju ekstraksi, k masing-masing adalah 4,9 gL-1, 0,206 g L-1menit-1 dan 0,0086 g-1L menit-1 dan nilai determinasi sebesar 99,97%. Hasil eksperimen didapat perolehan ekstraksi sebesar 5,14%.
Keywords
ekstraksi; hidrodistilasi; kinetika; lada hitam; orde dua
References
Alara O. R. & Abdurahman N. H. (2019). Kinetics Studies On Effects Of Extraction Techniques On Bioactive Compounds From Vernonia cinerea Leaf. J Food Sci Technol., 56, 580-588. DOI: 10.1007/s13197-018-3512-4
Andras, C.D., Volf, I., Salamon R.,V., Barabas, I., & Szep, A. (2015). Influence of Extraction Methods On Caraway (carum carvi l.) Essential Oil Yield And Carvone/Limonene Ratio. Environmental Engineering and Management Journal, 14(2), 341-347. DOI: 10.30638/eemj.2015.034
Anggraini, R., Jayuska, A., & Alimuddin, A.H. (2018). Isolasi dan Karakterisasi Minyak Atsiri Lada Hitam (Piper nigrum l.) Asal Sajingan Kalimantan Barat. Jurnal Kimia Khatulistiwa, 7(4), 124-133.
Cassel, E.,Vargas, R.M.F., Martinez, N.,Lorenz, D. & Dellacassa, E. (2009). Steam Distillation Modeling for Essential Oil Extraction Process. Industrial Crops And Products, 29(1), 171–176. DOI: 10.1016/j.indcrop.2008.04.017
Filly, A., Fernandez. X., Minuti, M., Chemat, F., Visinoni, F., & Cravotto, G. (2014). Solvent-free Microwave Extraction Of Essential Oil From Aromatic Herbs : From Laboratory to Pilot And Industrial Scale. Food Chemistry, 1(150), 193–198. DOI: 10.1016/j.foodchem.2013.10.139
Izadifar, M., & Abdolahi F. (2006). Comparison Between Neural Network and Mathematical Modeling Of Supercritical CO2 Extraction Of Black Pepper Essential Oil. J. of Supercritical Fluids, 38(1), 37–43. DOI: 10.1016/j.supflu.2005.11.012
Kumoro, A. C., Hasan, M. & Singh, H. (2010). Extraction of Sarawak Black Pepper Essential Oil Using Supercritical Carbon Dioxide. The Arabian Journal for Science and Engineering, 35(2B), 7-16. LINK
Kusuma, H. S., & Mahfud, M. (2015). Preliminary Study: Kinetics of Oil Extraction from Sandalwood by Microwave-assisted Hydrodistillation. ASEAN Journal of Chemical Engineering, 15(2), 62–69. DOI: 10.22146/ajche.49687
Kusuma, H.S., Rohadi, T.I., Daniswara, E.F., Altway, A. & Mahfud. (2017). Preliminary Study: Comparison of Kinetic Models of Oil Extraction from Vetiver (Vetiveria Zizanioides) by Microwave Hydrodistillation. Korean Chem. Eng. Res., 55(4), 574-577. DOI: 10.9713/kcer.2017.55.4.574
Maharaj, S. & McGaw, D. (2020). Mathematical Model for the Removal of Essential Oil Constituents during Steam Distillation Extraction. Processes, 8(400), 2-13. DOI: 10.3390/pr8040400
Martinelli, L., Rosa, J.M., Ferreira C.,S.,B., Nascimento G.,M.,L., Freitas, M.S., Pizato, L.C., Santos W.,O., Pires, R.F., Okura, M.H., Malpass G.R.P., & Granato, A.C. (2017). Antimicrobial Activity And Chemical Constituents Of Essential Oils And Oleoresins Extracted From Eight Pepper Species. Ciência Rural, Santa Maria, 47(05), 1-7. DOI: 10.1590/0103-8478cr20160899
Milojević, S.Z., Radosavljević D.B., Pavićević V. P., Srđan,P., & Veljković V., B. (2013). Modeling The Kinetics of Essential Oil Hydrodistillation from Plant Materials. Hemijska Industrija, 67(5), 843-859. DOI: 10.2298/HEMIND121026009M
Mohammed, G.,J., Omran, A.,M., & Hussein H.M. (2016). Antibacterial and Phytochemical Analysis of Piper nigrum using Gas Chromatography – Mass Spectrum and Fourier-Transform Infrared Spectroscopy. International. Journal of Pharmacognosy and Phytochemical Research, 8(6), 977-996. LINK
Nisa N., I., F. & Aminudin, A. (2019). Pengaruh Waktu Distilasi Etanol-Air Terhadap Konsentrasi Overhead Product dan Bottom Product. Chemical Engineering Research Articles, 2(1), 19-25. DOI: 10.25273/cheesa.v2i1.4469
Rmili R., Ramdani, M., Ghazi, Z., Saidi, N., & Mahi, B.,E. (2014). Composition Comparison Of Essential Oils Extracted by Hydrodistillation and Microwave-Assisted Hydrodistillation from Piper nigrum L. J. Mater. Environ. Sci., 5(5), 1560-1567. LINK
Ruth, S.M., Jensen M., Silvis, I.,C.,J., A, Ramos, M.E., Luning, P.A., Elliott, C.,T., & Alewijen, M. (2019), Cool comparison of black and white pepper grades. Food Science and Technology, 106, 122-127. DOI: 10.1016/j.lwt.2019.02.054
Tran, T.H., Ha L.K., Nguyen D.C., Nhan L.,T.,H., Nguyen D.,H., Nguyen T.,D.,Vo D.,V.,N., Tran , Q.,T. & Bach L.,G. (2019). The Study on Extraction Process and Analysis of Components in Essential Oils of Black Pepper (Pipernigrum L.) Seeds Harvested in Gia Lai Province,Vietnam. Processes, 7(56), 2-16. DOI: 10.3390/pr7020056
Article Metrics
Abstract has been read : 301 times
DOWNLOAD PDF file viewed/downloaded: 0 times

DOI:

http://doi.org/10.25273/cheesa.v3i2.7388.63-70
Refbacks
There are currently no refbacks.
This work is licensed under a
Creative Commons Attribution-NonCommercial-ShareAlike 4.0 International License
.
Published by Universitas PGRI Madiun

View Statistic