Pengaruh CR, ROA dan Ukuran Perusahaan Terhadap Nilai Perusahaan dengan Struktur Modal Sebagai Intervening
Abstract
The purpose of this study is to examine the direct and indirect effects of Current Ratio, Return On Assets and Company Size on Firm Value with the intervening variable Capital Structure. The sample in this study were automotive companies listed on the Indonesia Stock Exchange for the period 2014-2018. The study used purposive sampling technique, in which there were 12 automotive companies that met predetermined criteria. Furthermore, this study applies path analysis using the Eviews program version 8.0 and Microsoft Excel 2016. To determine the direct and indirect effects on linear regression coefficients and to ensure a direct and indirect relationship between the independent variable and the dependent variable through mediation, path analysis is carried out. The results of this study indicate the variable Current Ratio and Company Size have a significant effect on Firm Value, while Return On Assets and Capital Structure Ratio have no effect on Firm Value. Firm size has a significant effect on capital structure, while Current Ratio and Return on Assets have no effect on capital structure. Based on the results of the single test analysis, capital structure cannot mediate between Current Ratio, Return On Assets, and Company Size to Firm Value.
Keywords
Current Ratio, Debt to Equity Ratio, Return On Assets, Company Size and Firm Value.
References
Armelia, S. (2016). PENGARUH UKURAN PERUSAHAAN, PROFITABILITAS, LIKUIDITAS DAN STRUKTUR AKTIFA TERHADAP STRUKTUR MODAL PERUSAHAAN MANUFAKTUR GO PUBLIK (Studi Sektor Kosmetik Dan Keperluan Rumah Tangga). JOM FISIP, 3(2), 1–13.
Ghozali, i. (2016). Aplikasi Analisis Multivariate dengan Program Program IBM SPSS
Badan Penerbit Universitas Diponegoro.
Ghozali, I. (2011). Analisis Multivariate dengan program SPSS. Badan Penerbit Universitas
Diponegoro.
Harjadi, S. (2015). Pasar Modal Indonesia. In Media.
Hartono, J. (2015). Teori Portofolio dan Analisis Investasi. Rajawali Pers.
Hertina, D., Mayasari, L. L., & Sulandari, F. R. (2020). FIRM VALUE IMPACT OF INTELLECTUAL CAPITAL , COMPANY SIZE , PROFITABILITY , CAPITAL STRUCTURE AND ASSETS STRUCTURE. PJAEE, 17(10), 3561–3574.
Hery. (2017). Analisis Laporan Keuangan. Grasindo.
Hidayat, M. (2018). PENGARUH MANAJEMEN PAJAK, PERTUMBUHAN PENJUALAN DAN UKU- RAN PERUSAHAAN TERHADAP NILAI PERUSAHAAN PADA PERUSAHAAN MANUFAKTUR DI BEI PERIODE 2014-
Measurement, 12(2), 206–215.
Kahfi, M. F., Pratomo, D., & Aminah, W. (2018). PENGARUH CURRENT RATIO , DEBT TO EQUITY RATIO , TOTAL ASSETS TURNOVER DAN RETURN ON EQUITY TERHADAP NILAI PERUSAHAAN ( Studi Kasus Pada Perusahaan Manufaktur Sektor Food and Beverage Yang Terdaftar Di Bursa Efek Indonesia Pada Tahun 2011 – 2016 ) EFFECT O. E-Proceeding of Management, 5(1), 566–574.
Kasmir. (2015). Analisis Laporan Keuangan. Raja Grafindo.
Pioh, H. T., Tommy, P., & Sepang, J. L. (2018). PENGARUH DEBT TO EQUITY RATIO , EARNING PER SHARE DAN RETURN ON ASSET TERHADAP NILAI PERUSAHAAN SUB SECTOR FOOD AND BEVERAGES DI BURSA EFEK INDONESIA THE EFFECT OF DEBT TO EQUITY RATIO , EARNINGS PER SHARE AND RETURN ON ASSETS TOWARD THE FIRM VALUE OF THE. Jurnal
EMBA, 6(4).
Riyanto, B. (2008). Dasar-dasar perbelanjaan Perusahaan. Yayasan Penerbit Gajah Mada.
Sabrin, Sarita, B., Takdir, D., & Sujono. (2019). Indonesia Stock Exchange The Effect of Profitability on Firm Value in Manufacturing Company at Indonesia Stock Exchange. The International Journal of Engineering And Science (IJES), 5(10).
Sadalia, I., Simanjuntak, S., & Butar, N. A. (2017). An Analysis of the Determinants of Capital Structure and their Influence on Firm Value. International Journal of Applied Business and Economic Research, 15(19), 165–177.
Sugiyono. (2015). Metode Penelitian Pendidikan Pendeketan Kuantitatif, Kualitatif, dan R&D. Alfabeta.
Sugiyono. (2017). Metodologi Penelitian. Raja Grafindo Persada.
Sutrisno. (2017). Manajemen Keuangan Teori Konsep & Aplikasi. Ekonisia.
Utami, P., & Welas. (2019). PENGARUH CURRENT RATIO, RETURN ON ASSET, TOTAL ASSET TURNOVER DAN DEBT TO EQUITY RATIO TERHADAP NILAI
Inventory: Jurnal Akuntansi
PERUSAHAAN (Studi Empiris pada Perusahaan Manufaktur Sub Sektor Properti dan Real Estate Yang Terdaftar di Bursa Efek Indonesia Periode 2015-2017). Jurnal Akuntansi Dan Keuangan, 8(1), 57–76.
Article Metrics
Abstract has been read : 656 times
PDF file viewed/downloaded: 0 times

DOI:

http://doi.org/10.25273/inventory.v5i2.10653
Refbacks
There are currently no refbacks.
This work is licensed under a
Creative Commons Attribution-NonCommercial-ShareAlike 4.0 International License
.
Indexed by: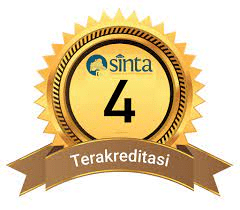 Supported by:
Editorial Office:
Universitas PGRI Madiun
Kampus 3 Lantai 2 Program Studi Akuntansi
Fakultas Ekonomi dan Bisnis
Jl. Auri no. 14-16 Madiun
Inventory Stats