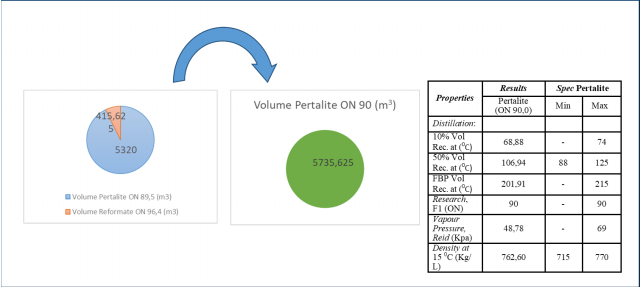 Optimasi Blending Pertalite dengan Komponen Reformate di PT. XYZ Balikpapan
Abstract
Penelitian ini bertujuan untuk perbaikan produk Pertalite menggunakan komponen Reformat agar memenuhi spesifikasi yang telah ditetapkan oleh Dirjen Migas. Metode blending merupakan teknik pengumpulan data yang berupa perhitungan optimasi blending pertalite dengan penambahan komponen reformate menggunakan rumus trial & error/coba-coba. Beberapa rumusan perhitungan blending yang di pakai untuk membuat Pertalite dari komponen-komponennya adalah: Blending, Distilasi, Octane Number dan RPV. Berdasarkan perhitungan hasil distilasi 10% sebesar 68,88 oC, 50% sebesar 106,94 oC, FBP 201,91 oC, Reid Vapour Pressure (RVP) sebesar 48,78 Kpa, density at 15 oC sebesar 762,60 Kg/liter, dan ON diperoleh angka sebesar 90. Berdasarkan hasil analisa Perhitungan Optimasi blending pertalite ON 89,5 dengan Reformat menggunakan rumus trial & error/coba-coba, pencampuran titik blending telah memenuhi spesifikasi Distilasi, RVP dan Density. Pertalite ON 90 diperoleh dari percampuran pertalite ON 89,5 sebanyak 5320 m3 dengan Reformat sebanyak 415,625 m3.
Keywords
Angka oktan; Blending; Reformate; Trial & Error
References
Arsip PT. XYZ. (2017). Modul PT. XYZ: Rumus Blending. Balikpapan
Dhamayanthie, I., Octaviana, S., & Mulyani, Y. (2018). Analisa Uji Sifat Penguapan Pada Gasoline. IPTEK Journal of Proceedings Series, 274-280, DOI: 10.12962/j23546026.y2018i1.3429
Fauzi, A., Songko, M. N., & Sisanto, E. (2017). Analisis Pengaruh Jenis Bahan Bakar terhadap Penggunaan Hydrocarbon Crack System pada Emisi Gas Buang Engine Stand Tipe 5K. ReTII, 343-354, https://journal.itny.ac.id/index.php/ReTII/article/view/629
Jatmiko, R. S., & Winangun, K. (2019). Pengaruh Pencampuran Bahan Bakar Pertalite dengan Bio Etanol terhadap Peforma Mesin Injeksi Yamaha Vixion 150 cc Tahun 2011. Turbo, 8(1), 22-27 http://dx.doi.org/10.24127/trb.v8i1.914
Karomi, A. A. (2016). Pengaruh Penambahan Etanol Dalam Bahan Bakar Pertalite Terhadap Performa dan Emisi Gas Buang Mesin 4 Silinder. Doctoral dissertation: Universitas Negeri Semarang. https://lib.unnes.ac.id/27703/
Luthfi, M., Setiyo, M., & Munahar, S. (2018). Uji Komposisi Bahan Bakar dan Emisi Pembakaran Pertalite dan Premium. Jurnal Teknologi, 10(1), 67-72. https://jurnal.umj.ac.id/index.php/jurtek/article/view/1471
Maridjo, Yuliani, I., & Angga, R. (2019). Pengaruh pemakaian bahan bakar premium, pertalite dan pertamax terhadap kinerja motor 4 tak. JURNAL TEKNIK ENERGI, 9(1), 73-78. https://jurnal.polban.ac.id/ojs-3.1.2/energi/article/view/1648
Maryani, E., & Suseno, S. A. (2018). Peningkatan Proses Produksi Minyak dan Gas Bumi dengan Menurunkan Tekanan Hisap Kompesor. In Prosiding Seminar Nasional Teknologi, Inovasi dan Aplikasi di Lingkungan Tropis, 1(1), 15-24, http://e-journals.unmul.ac.id/index.php/SEMNASTEK/article/view/942
Mu'in, R. (2010). Upaya Memperpanjang Pemakaian Minyak Bumi. Jurnal Teknik Kimia, 17(2), 9-15 http://jtk.unsri.ac.id/index.php/jtk/article/viewFile/103/102
Prihandini, G. (2018). Analisa Sifat Penguapan dan Sifat Pembakaran pada Minyak Solar. Syntax Literate; Jurnal Ilmiah Indonesia, 2(8), 40-48, http://jurnal.syntaxliterate.co.id/index.php/syntax-literate/article/view/338
Putra, D. K., & Sakti, G. (2018). Analisis Perbandingan Campuran BBM RON 90 dengan RON 92 pada Engine Compresi Rasio 11, 3:1 Piston Displacement 150 cm3. Prosiding SNITP (Seminar Nasional Inovasi Teknologi Penerbangan), (2)1, https://ejournal.poltekbangsby.ac.id/index.php/SNITP/article/view/211/149
Ramírez-Verduzco, L. F., Rodríguez-Rodríguez, J. E., & del Rayo Jaramillo-Jacob, A. (2012). Predicting cetane number, kinematic viscosity, density and higher heating value of biodiesel from its fatty acid methyl ester composition. Fuel, 91(1), 102-111, https://www.sciencedirect.com/science/article/pii/S0016236111003942
Risdiyanta, R. (2015). Mengenal Kilang Pengolahan Minyak Bumi (Refinery) di Indonesia. Swara Patra, 5(4), 46-54, http://ejurnal.ppsdmmigas.esdm.go.id/sp/index.php/swarapatra/article/view/160
Saleh, A., Setianingrum, A., & Karolina, T. (2011). Pengaruh Penambahan Alkohol pada Premium untuk Mencapai Bilangan Oktan yang Setara dengan Pertamax. Jurnal Teknik Kimia, 17(5), 18-28, http://jtk.unsri.ac.id/index.php/jtk/article/view/342
Sembiring, R. (2019). Analisa Gas Buang Sepeda Motor 4 Tak 150 CC Manual Berbahan Bakar Percampuran Pertamax Turbo dengan Premium. Jurnal Ilmiah Research Sains, 5(1). http://www.jurnalmudiraindure.com/wp-content/uploads/2019/03/16.-Ir.-Resep-Sembiring-MT.pdf
Subagdja, T., & Yulianto, A. (2019). Analisis Pengaruh Bilangan Oktan terhadap Pemakaian Bahan Bakar (Specific Fuel Cunsumption). Prosiding SEMNASTEK 2019, 74-83, https://jurnal.teknikunkris.ac.id/index.php/semnastek2019/article/view/259
Wibowo, C. S., Aisyah, L., Widhiarto, H., Riyono, S. (2015). Kebutuhan Angka Oktana Kendaraan Bermotor Mesin Bensin di Indonesia Octane Number Requirement Based on Gasoline Vehicles Population in Indonesia. Lembaran Publikasi Minyak dan Gas Bumi, 49(1), 33–40, http://journal.lemigas.esdm.go.id/ojs/index.php/LPMGB/article/viewFile/234/156
Wiryawan, P. N., Gede Widayana, S. T., & Dantes, K. R. (2017). Pengaruh Perbandingan Penggunaan Bahan Bakar Pertalite dan Bahan Bakar Gas LPG terhadap Unjuk Kerja Motor Bakar Bensin 4 Tak Pada Motor Honda Supra Fit. Jurnal Pendidikan Teknik Mesin Undiksha, 5(2). http://dx.doi.org/10.23887/jjtm.v5i2.10606
Article Metrics
Abstract has been read : 308 times
DONWLOAD PDF file viewed/downloaded: 0 times

DOI:

http://doi.org/10.25273/cheesa.v3i1.5684
Refbacks
There are currently no refbacks.
This work is licensed under a
Creative Commons Attribution-NonCommercial-ShareAlike 4.0 International License
.

My Stats